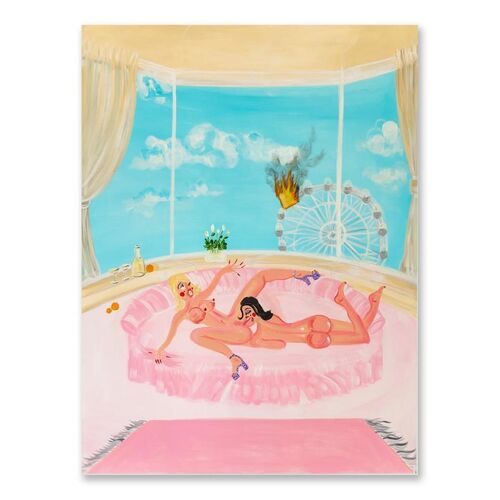 To Feel Alive, 2020.
Oh de Laval
3 White Dots
Humans Like Being a Little Scared but They Don?t Want to be Disturbed, 2020 .
Oh de Laval
Unit London
Sex is one of the oldest subjects in the history of art, but never has it looked the way it does in 2021. Depictions of sex and art have always been entangled—Picasso even went as far to suggest that the two are inseparable. But in an age when romantic liaisons are often mediated through screens and an embrace can potentially be fatal, sex has become something else for a new generation.
Portrayals of sex in art aren't just about pleasure and arousal—though, of course, that's still part of the fun. Such a provocative subject, and one that is so highly subjective, isn't as easy as it might seem at first glance. Steeped in so much history, prejudice, and politics, sex might actually be one of the most difficult subjects to deal with in art today.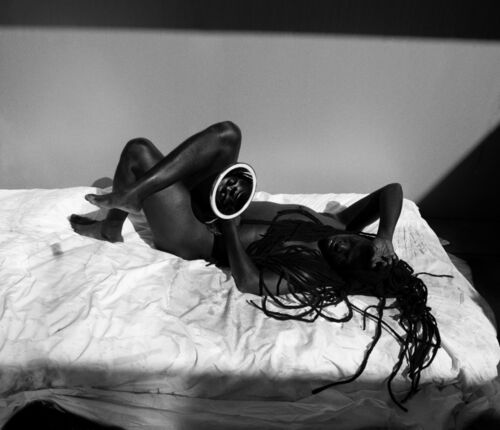 Bona III, ISGM, Boston, 2019.
Zanele Muholi
Stevenson
Many artists broaching themes around sex and the erotic now must contend with draconian censorship of nudity on social media, and the way that apps and digital devices complicate our relationships with real, physical bodies. Artists making this work often choose to portray people they know and share mutual trust with, yet there is the potential for problematic power dynamics and issues over consent and control. And while art about sex doesn't necessarily mean depicting people having sex, there's a kind of knee-jerk reaction audiences have to even the suggestion of sex, as superficial, pornographic, crude, or shameful.
For centuries, queer artists and women artists have been using shock tactics when it comes to sex. In the past few decades, artists like Betty Tompkins, Marilyn Minter, Zanele Muholi, Rotimi Fani-Kayode, and Joan Semmel, among many others, have pioneered this space in contemporary art by making work that didn't apologize for its directness. For artists working today, building upon the ideas of their predecessors, sex has become a rich, complex subject. It's often a means through which to interrogate the way we look at and treat bodies, particularly those that have been subjugated and othered by the male gaze. Portraying sex is ultimately about freedom—something that has become even more relevant given the pandemic and social upheaval of the past year.
Censored Painting #1, 2019.
Betty Tompkins
P.P.O.W
Frozen, 2016.
Marilyn Minter
Dallas Collectors Club
"Sexual imagery is very much at the core of my work," said New York–based painter Doron Langberg, a graduate of Yale's MFA program who recently joined Victoria Miro's roster. Langberg recalled that he started working with explicit subject matter as a junior in college. "I made small graphite drawings from sex videos I'd make with guys I was with. At the time, I wasn't really thinking about why I was doing it. For me, it was a formal exploration and an opportunity to work with the body, which I loved," he said. "In retrospect, I think that I wasn't ready to see myself as a 'queer artist' because it felt limiting. But slowly, I came to realize that what was limiting is not being queer, but rather the social perception of queerness, and working with explicit imagery was my way of communicating queerness as I experience it, and not as it's been told to me."
There's a touch of Joan Semmel in Langberg's delicate way of capturing the movement of the flesh, whether it's a couple in the throes of passion, a lover sleeping nude, or a friend sitting in a chair. Each one of these images is intimate and vulnerable in their own way.
Doron Langberg, Lovers 2, 2020. Courtesy of the artist; Victoria Miro Gallery, London; and Yossi Milo Gallery, New York.
"Queer sexuality has been so sensationalized that even a mild expression of it, like holding hands in the street, is highly charged and could have repercussions," Langberg noted. "Thinking of that as a context, depicting queer relationships in a casual way feels radical still."
For many artists, the full-frontal view of sex is a way of insisting on their right to be desiring spectators, to normalize their desires by not shying away.
"As blasé as the art world is about sexuality and explicit work, that doesn't reflect how the outside world relates to these issues," Langberg said. "Even posting my work on Instagram is touch and go. But the response explicit imagery elicits, especially queer explicit imagery, is in the DNA of my practice. I don't see it as a problem to overcome, rather as part of the politics of my work."
Doron Langberg, Zach and Craig 3, 2019. Courtesy of the artist; Victoria Miro Gallery, London; and Yossi Milo Gallery, New York.
Doron Langberg, Fucking 2, 2020. Courtesy of the artist; Victoria Miro Gallery, London; and Yossi Milo Gallery, New York.
Langberg himself has sat for the painter Jenna Gribbon, who is currently working on her next exhibition, due to open in London at Sim Smith in the spring. (She also recently had solo shows with GNYP Gallery and The Journal Gallery, as well as group shows with Miles McEnery Gallery and Taymour Grahne Projects.) A large part of her portrait work, too, has been focused on the people closest to her, especially her partner who features in paintings regularly. "I'm interested in what it means to see and be seen in a time where there is more imagery of both than ever before," Gribbon said. "Desire isn't the only aspect of looking that I deal with, but it does factor in frequently when I paint my partner."
Gribbon's partner is comfortable being her muse—she's a professional performer and musician—but in painting her, Gribbon also turns her into an object for others to look at. "One of the things that interests me is the contrast between the big, zoomed out experience of an audience seeing and interacting with her, and a kind of myopic focus in our intimate moments," she said.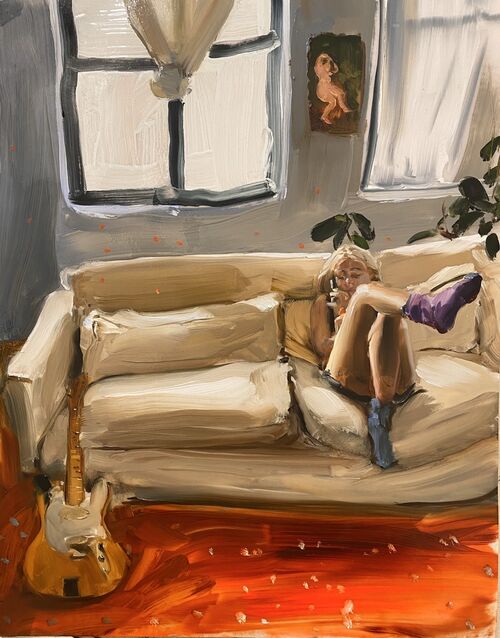 Couched, 2020.
Jenna Gribbon
Food Bank For New York City Benefit Auction
Doing Nothing, 2020.
Jenna Gribbon
Taymour Grahne Projects
This intense, intimate lover's gaze is an important tactic for Gribbon "to jar people out of what they think they already know about consuming images of naked women, hence the fluorescent nipples," she said. "If you can get someone into a position of self-consciousness, it's a fruitful starting place."
One of Gribbon's recent oil paintings, Objectified in Boxers (2020), features her partner, hair loose, hands in pockets, eyes cast down and smiling, wearing nothing but a pair of boxer shorts. "You can't completely avoid objectification when depicting a naked body, so I think it's best to acknowledge that and move on," Gribbon explained. "Treating objectification as some kind of deal-breaker negates the actual complexity of the subject and blocks some really interesting paths of exploration. One of those paths is the depiction of desire for a woman's body from the perspective of another woman. It's something we've still seen very little of culturally. Narratives in this realm that we do encounter are usually of the manufactured pornographic variety, or that of 'they were basically just really good friends who were affectionate.'"
Set List Focus, 2020.
Jenna Gribbon
Miles McEnery Gallery
My girlfriend in a short skirt, a row of men between us, 2020.
Jenna Gribbon
GNYP Gallery
Gribbon added, "These preferred modes of depiction are so ingrained that it can be hard to make something that deals in a woman's desire for a woman that doesn't get viewed through one of those two lenses."
Gribbon's resolve as a painter has been to acknowledge that specificity of experience, the desire she feels in her own relationship, and to make the viewer aware of her own complicity and involvement in looking: whether it's through perspective or by introducing her own body into the work, too. "That said, I have also thought about about queer eroticism depicted by male artists and been jealous at times," she said. "I wondered, 'Why can't we have that? Where are our Marsden Hartley beefcakes?'"
Ritualized looking, 2020.
Jenna Gribbon
GNYP Gallery
Sweatpants, Child, 2020.
Jenna Gribbon
Taymour Grahne Projects
The fact that erotic work has been dominated by the male gaze and exploited by the partiarchy doesn't mean that those working outside it need to avoid it. "I think the only way to address the erasure and oversimplification of [women-loving-women] eroticism is not only more pieces to the puzzle for a more complete picture, but also more puzzles on the shelf," Gribbon said.
British artist Helen Beard noted that she used to get upset when her work was described as erotic, "or when it was pigeonholed as erotica." Beard is known for intensely colorful, large-scale paintings based on close-ups of pornographic images, but transformed into something that has a completely different effect.
And the Moon of my Heart is Shining Forth, 2020.
Helen Beard
Alex Daniels – Reflex Amsterdam
Study for The First Cut is the Deepest, 2020.
Helen Beard
Alex Daniels – Reflex Amsterdam
Beard, who has recently presented solo exhibitions at Reflex Amsterdam and UNIT London, explains that Audre Lorde's "Uses of the Erotic: The Erotic as Power" was foundational in understanding what the erotic could be. In the 1978 essay, Lorde distinguishes between two often conflated terms: "pornographic" and "erotic." Lorde wrote, "When I speak of the erotic, I speak of it as an assertion of the life force of women, of that creative energy empowered." The erotic could be characterized differently—as a vital life force, unstoppable, spiritual.
"Like a lot of women artists today, I think we should take back ownership of the word 'erotic,'" Beard said. "It is not contemptible to make work about female desire, or speak of the joy of sharing a deep physical and emotional bond with another person. It should be celebrated, and I hope my paintings do that."
Helen Beard Syntribate, 2019.
Helen Beard
Modern Artifact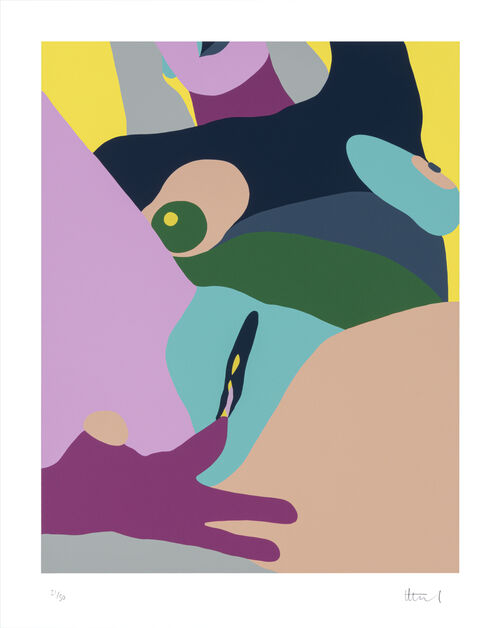 The Song of Self, 2019.
Helen Beard
Subliminal Projects
Sex, sexuality, and the erotic, in the right hands, can become liberating, all-encompassing; beautiful on a higher plane. For Tiffany Alfonseca, a rising young artist based in the Bronx, it is "extremely important" to depict different desires, erotic gestures, and intimacy. "The way I see it, sexual inclusion and intimacy go hand in hand through the works that I create," she said.
Alfonseca, who is showing new work with Gallery 1957 this year, focuses on the real lives of people living in her community, as she sees them. She creates striking images that resonate on a fundamental human level, whether it's a shared kiss or a couple canoodling, eyes closed, serene, together in bed. There is nothing sensationalized about her depictions, but that doesn't take away from their inherent eroticism, and she uses an attention-grabbing palette of punchy pinks, purples, and reds, reminiscent of romance.
Uh – Huh Honey, 2020.
Tiffany Alfonseca
John Wolf Art Advisory & Brokerage
"The dynamic of my work focuses on normalizing the Black body when one is expressing their sexuality or sharing intimate moments with a loved one regardless of their sexuality," Alfonseca said. "For far too long, the Black body has been fetishized when it comes to sexuality and intimacy throughout art and culture. My goal is to change that through my practice."
For other young artists, sexual encounters in art are now often informed by interactions with screens and apps; selfie culture influences body image, which in turn directs desire. In Christopher Hartmann's Big Butt (Don't look at me) (2020)—a larger-than-life painting of a bright pink bottom on display to arouse desire—the effect is the opposite. The feeling of breached privacy, of false intimacy, inverts the intended erotic frisson of screen-based sex, showing it as something detached, or as Hartmann puts it, "cold romance."
Untitled , 2020.
Christopher Hartmann
Unit London
Untitled , 2020.
Christopher Hartmann
Unit London
In fact, the avatar-like figures in Hartmann's portraits rarely display any mutual attraction or affection; they seem to float in space, devoid of desire—in the artist's words, "a dysfunctional romance between alienated figures."
"I always depict the figures in my paintings in relationship to others," Hartmann explained. Even when there is only one figure in painting, he noted that "you can sense the absence of the 'other,'" as the subject gazes or points towards it beyond the frame. "I am particularly interested in the ambiguity of these relationships, the tension that oscillates between romance and rejection," he added.
Untitled (Touch with Laser Lights), 2020.
James Bartolacci
Taymour Grahne Projects
Leftovers (2), 2020.
James Bartolacci
Taymour Grahne Projects
The loneliness of love and searching for sex in the 21st century also permeates the work of James Bartolacci, who is opening a show with Taymour Grahne Projects in London this spring. In nightclub scenes based on his own experiences partying in New York, the erotic takes on a "covert role" for the artist. Bartolacci sees the erotic impulse as "a catalyst for connection—whether it's figures gathering on a dance floor or yearning for a lover," he said. In one new work, Bartolacci hones in on that familiar thrill of when a hand—perhaps a stranger's—meets another's shoulder. It's a simple gesture that means so much.
Bartolacci also reminds us that the act of making something with your hands is in itself pretty sensual, and that gazing at others' bodies is a form of voyeurism. "I see the erotic in the lushness of my color palette," Bartolacci said. "My colors are bold and saturated, like the laser lights found in nightclubs.…I've always found these intense colors to be highly evocative and transformative, signaling that you are entering a space removed from the everyday. And, much like those laser lights, I want the colors to lure the viewer into the work."
The devil always plays on the triangle, 2020.
Oh de Laval
Unit London
The half-Thai, half-Polish, London-based painter known by the sobriquet Oh de Laval certainly understands this, too. She creates chromatic tableaux that are erotic and bizarre, with trenchant humor. Her paintings hit on what makes sex such a perenially fascinating topic, beyond time and space, connecting us to another state of consciousness.
"The eroticism in my paintings is as much about sexual desire as lust, wrath, violence, despair, and happiness," Oh de Laval explained. "These emotions each play an expressive role in that precise moment when we are caught between the civilized person we have grown to become and that wild part of our nature that we forget we are. It's no longer our nature to behave wild in our civilized world because technology has made it all too easy to tame.
You Have Two Hands, One to Help Others, The Second to Help Others., 2020.
Oh de Laval
Unit London
Looking Backwards Fucks With Your Neck, 2020.
Oh de Laval
Unit London
"Yet we still remain angry, hungry, and horny, but if we can't get our fix immediately, we expose our wildness," she continued. "My paintings take you to the place where there are no consequences, only moments of wildness."
Artists exploring sex and the erotic now are radically shifting the discourse away from age-old interpretations, and towards something that reflects more of the full gamut of sexual experience. But ultimately, they might be searching, like artists in the past, for a place where we discover our most unshackled, primitive, and carnal selves; where we might truly be free.