The first electric light was invented in the early 1800s by chemist and inventor Humphry Davy (1778-1829). It was a transformative moment. Since then, lighting technology has developed at speed. Today, we can control lamps remotely from our mobile phones. Energy efficient lightbulbs are helping to reduce our carbon footprints. The concept has fascinated engineers, scientists, architects and designers worldwide.
"Lighting design has transformed our daily lives and influenced major design movements over the past 100 years," says said Gary Tinterow, Director at the Museum of Fine Arts, Houston. The institution is launching a new large-scale exhibition on the subject, titled Electrifying Design: A Century of Lighting. The show presents 85 examples from the US, Europe and Asia. "These novel creations blend advances in technology with artistic expression; they will open visitors' eyes to innovative design in the everyday."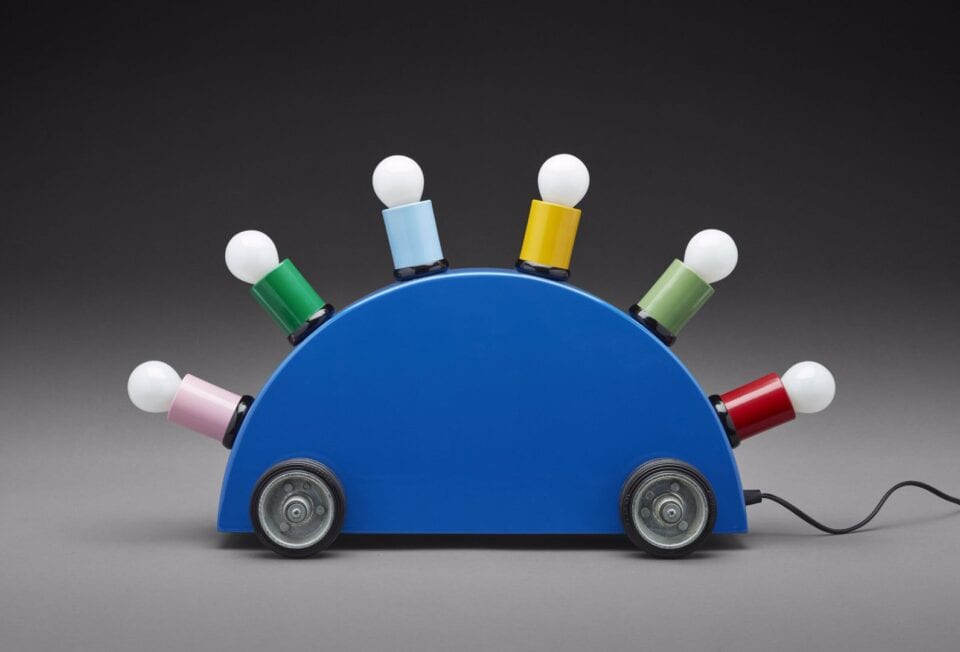 One such example is Drift, a Dutch artist collective exploring the boundaries of technology and nature. Their mesmerising installation Flylight (2015, top of page) is part of the show. Responding to movement in the room, the piece mimics the behaviour of a flock of birds. Flylight comprises LEDs and glass tubes suspended from the ceiling. As its surroundings change, it cycles through a programmed, yet randomised, series of illuminations. Drift show how art and advanced engineering merge in the 21st century.
MFAH's exhibition looks back as far as the 1920s, when early designs were emphasising harmony between colour and function. By the mid-to-late 20th century, Pop Art and the Radical Design movement were shaking up the industry. Memphis group member Martine Bedin's (b. 1957) Super Lamp (above, c. 1978) embodies the collective's ground-breaking aesthetic: playful, humorous and loud. It resembles a toy car; a rounded base crowned with bulbs in brightly coloured sockets. At the time, objects were designed to be practical. Bedin shows how lighting can express a sense of wonder – in addition to its utilitarian purpose.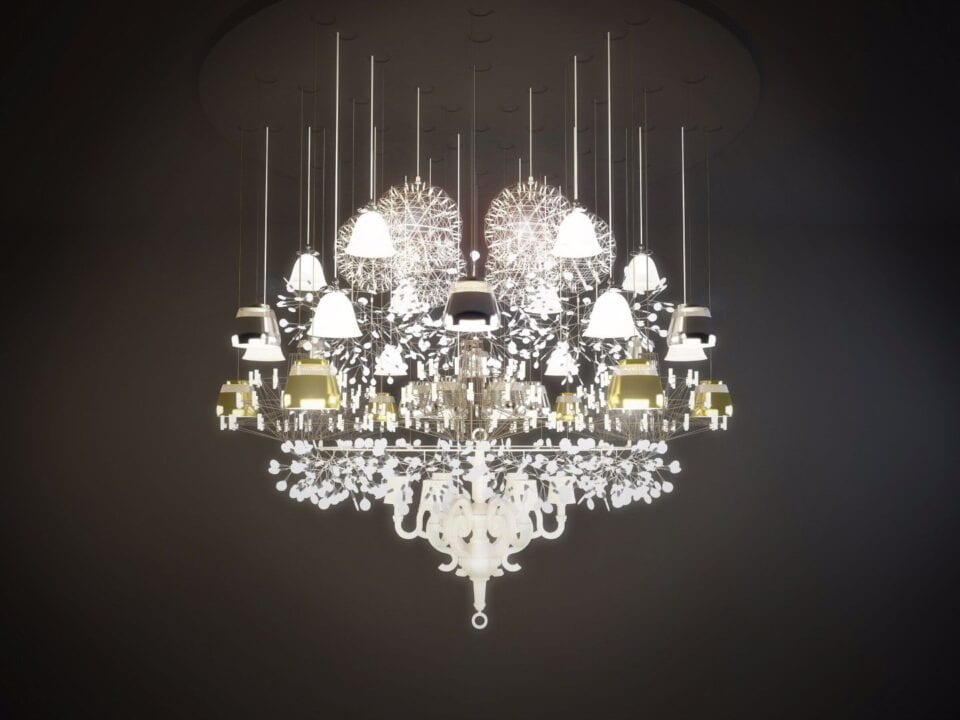 The avant-garde Memphis group, with its pioneering lighting solutions, left a lasting impact on contemporary culture. Clashing colours, synthetic materials and bold patterns became popular in the 1980s and early 1990s. They are still revisited today. As co-curator Cindi Strauss explains: "Lighting as a field has often been pushed, literally, into the shadows. This exhibition highlights its role as a leading indicator of stylistic and technical change."
---
Electrifying Design: A Century of Lighting opens February 2021. Find out more here.
---
Lead image: Drift, Flylight (Basel), 2015, hand-blown glass, wire, electronics, anodized aluminum, and LEDs. © 2020 Drift.
1. Martine Bedin, manufactured by Memphis Milano, Super Lamp, designed c. 1978, made c. 1980s, fiberglass, enamel, steel, rubber, and 40-watt incandescent bulbs, the Museum of Fine Arts, Houston, Museum purchase funded by the Design Council, 2020. © 1978 Martine Bedin
2. Moooi Works, manufactured by Moooi, Mega Chandelier, 2018, mixed media and bulbs. © Moooi, New York.
The post Illumination Through Design appeared first on Aesthetica Magazine.