I don't know about you, but I've always been curious about the religions of the world.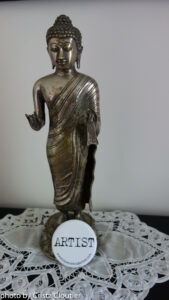 I started visiting different churches when I was a kid. I wanted to explore the beliefs and rituals and stories that people believe.
Oh sure, a lot of it had to do with the fellowship snacks, the donuts and cookies that are served after the service, but I was curious.
While at university, I was invited to write a column for a local underground newspaper. The publisher told me I could write about anything I wished. Much to his surprise, I said I wanted to write a weekly church review.
My column was called "Church Search" and it was written tongue-in-cheek, as if I was reviewing a film or a restaurant. I graded by angels instead of stars. Each article described the service, gave a history of the denomination, and I held up to scrutiny the sacramental wines, the singing voice of the congregations and, of course, the fellowship snacks.
Writing Church Search was actually my first real creative act.
Like any artist, I followed the questions, investigating something that I was interested in, learning everything I could about it, and then sharing the information in a personal voice with an audience.
Artists are curious creatures. We follow questions. I've even heard some artists say that art is about following one's curiosity.
Think about all those things that interest you. These are the very things that make you different. For an artist, this can be gold.
Years later I left the USA and moved to England. Finding myself alone with time on my hands as I looked for work, I was once again curious about churches. What happens behind closed doors in British churches?
On a whim, I started visiting a few services, taking photographs, interviewing vicars, vergers and attendees, and then writing about them – for fun. Because artists are weird that way.
And because people do take notice when a foreigner asks strange questions and takes pictures, I became a tiny bit famous within the British church community. This led to an invitation to sit in the audience of a TV panel program called The Big Questions.
On the panel that day was an editor from The Guardian newspaper.
After the taping of the show, I slipped backstage and followed him, not realizing he was going into the gentleman's toilet.
Too late to turn back, I gave him my pitch anyway.
Guess what? Within a week I had a byline on The Guardian's Belief Blog!
I was in heaven.
That taught me that you've got to have your pitch ready to go at any moment, you've got to prepare for opportunities. That's how luck happens.
Your pitch will change depending upon whom you're speaking with and what you want. My best advice is to think about what it is you do and how it can serve the other person, not how they can serve you.
For example, as I stood at the door of the gentleman's toilet I said, "I write church reviews. They're thoughtful, humanistic and often funny. I think The Guardian's readers would appreciate them. May I send you some examples?"
Yes, my heart was pounding. Yes, I was certain I was making a complete fool of myself. But I jumped anyway.
And the universe caught me.
So here are those lessons again:
Be curious – for that's where art is born
Follow those strange things that interest you, they lead to your unique voice
Don't be afraid to work for free, to build your skills and portfolio
Say yes to opportunities
Know how to speak about your work so you can have a pitch at the ready
Don't be afraid to be audacious, the universe rewards courage
That's my sermon for the week. Can I hear an AMEN?
Members of my mailing list get loads of free resources and inspiration. Want in? Sign up now to receive free video tutorials, ebooks and more!
Working in the international world of contemporary art, Crista Cloutier has spent her career selling art and marketing art to art galleries, museums and private collections. 
Using her professional experiences, Crista has created The Working Artist Masterclass, where she's developed a global reputation as an artist's coach. Crista can teach you how to be an artist; including how to sell your art, how to sell art online, how to sell photographs, how to price your art, how to succeed at art fairs, and even how to find your art style. 
Crista has worked with established, blue-chip artists to raise their profile and attract greater opportunities. And she's also helped thousands of emerging artists to build a professional art practice. To learn more, visit https://theworkingartist.com
The post How I Learned To Be An Artist By Going To Church first appeared on The Working Artist.