"Artists on Our Radar" is a monthly series produced collaboratively by Artsy's Editorial and Curatorial teams. Utilizing our editors' art expertise and our curators' unique insights and access to Artsy data, each month, we highlight five artists who have our attention. To make our selections, we've determined which artists made an impact this past month through new gallery representation, exhibitions, auctions, art fairs, viewing rooms, or sale inquiries on Artsy.
B. 1970, Mexico City. Lives and works in Mexico City and New York.
Untitled, 2019.
Bosco Sodi
Kasmin
For the Mexican multimedia artist Bosco Sodi, the Japanese philosophy of wabi sabi is central to life and work. To embrace wabi sabi is to find pleasure in the imperfect, and to see beauty in incompleteness, accident, and humble simplicity. Reflecting these tenets, Sodi's monumental, richly pigmented works rely in large part on happenstance: As mixtures of pigment, glue, clay, and natural fibers dry, their surfaces crack unpredictably, resembling lava or earth. In addition to sourcing geologic material from his ancestral regions of Mexico, Sodi employs natural pigments such as lapis lazuli, indigo, carbon, and soot.
Untitled, 2013.
Bosco Sodi
Eduardo Secci Contemporary
Untitled, 2017.
Bosco Sodi
Luciana Brito Galeria
Interest in Bosco Sodi's works on Artsy has climbed steadily in recent years, with annual inquiries quadrupling since 2015. While recent shows at Kasmin and an outdoor sculpture installation put on by Pioneer Works have piqued the art world's interest this fall, Sodi has been revered among the design-savvy set for some time. Casa Wabi, his artist residency in Oaxaca, Mexico, designed by Tadao Ando, is a pilgrimage for those who seek minimalist, environmentally conscious architecture.Sodi's work is included in notable global collections, including the Nasher Sculpture Center in Dallas, the Walker Art Center in Minneapolis, the Museo Jumex in Mexico, the 21st Century Museum of Contemporary Art in Japan, and many more.
—Jordan Huelskamp
B. 1983, Hälsingland, Sweden. Lives and works in Hälsingland.
Bate, 2019.
Sara-Vide Ericson
Galleri Magnus Karlsson
The Commitment, 2019.
Sara-Vide Ericson
Galleri Magnus Karlsson
Swedish artist Sara-Vide Ericson performs and photographs scenes based on her lived experiences, thoughts, and dreams. She then uses the photographs as reference images to create the large-scale oil paintings that are her finished works. Staged in and around her home in the densely wooded region of Hälsingland, Sweden, the painted scenes often depict a figure interacting with objects in nature. Devoid of modern technology, the enigmatic narratives in Ericson's work seem reminiscent of past eras, examining our current relationship to the natural world, artifacts, and rituals.
Since graduating from Stockholm's Royal Institute of Art in 2009, Ericson has gained recognition as one of Sweden's leading contemporary talents. Her work has exhibited extensively throughout the greater Nordic region with Galleri Mangus Karlsson in Stockholm and V1 Gallery in Copenhagen. "Interior Ambush,"a solo exhibition of the artist's paintings, recently traveled throughout Sweden—starting at Stockholm's Royal Academy of Fine Arts in 2019 before going on to Kalmar Konstmuseum, and ending at Hälsinglands Museum this past September.
The Last Vigilante, 2018.
Sara-Vide Ericson
V1 Gallery
Consequence (Brick from the past), 2020.
Sara-Vide Ericson
V1 Gallery
Last month, Ericson was the focus of a documentary special that aired on SVT, Sweden's national public television broadcaster. Subsequently, her artist page on Artsy saw a 360 percent increase in monthly views in November. Her work is represented in preeminent public and private collections, including the Moderna Museet in Stockholm, the Columbus Museum of Art in Ohio, and the Uppsala Art Museum in Sweden.
—Juliana Lopez
B. 1991, Rome. Lives and works in New York.
What you know about love…I got what you need, 2020.
Asif Hoque
Yossi Milo Gallery
Asif Hoque's paintings of curving, brown-bodied figures in sweeping clouds and grasses belong to an angelic, otherworldly plane. It's fitting that Mindy Solomon Gallery and curator Ché Morales's video presentation of the artist's recent body of work, "Lover's Rock" (2020), places his canvases in an ivy-filled temple, surrounded by rolling hills and set to the soundtrack of birdsongs.
Hoque's celestial creatures serve as reflections of his multicultural identity. The 29-year-old artist was born in Rome to Bangladeshi parents, raised between Rome and South Florida, and is now based in New York. "I had three cultures in me by the time I was ten," Hoque has shared.
I'm such a fool!, 2018.
Asif Hoque
Mindy Solomon Gallery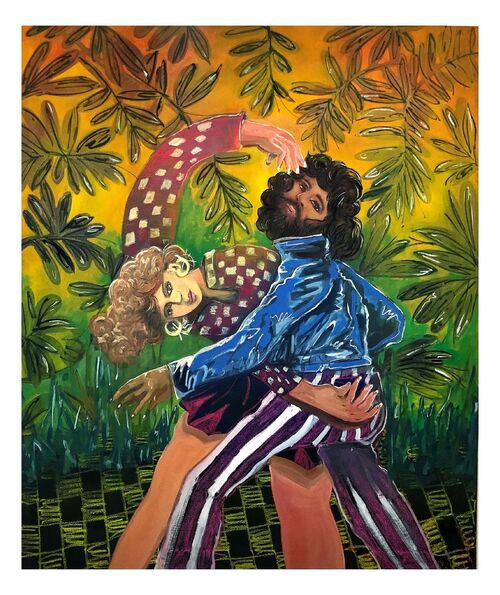 She takes no prisoners, 2018.
Asif Hoque
Mindy Solomon Gallery
While Hoque remains somewhat under the radar (as of this writing, the artist has 52 followers on Artsy), his profile is on the rise. Collectors who follow Hoque also follow many of today's leading emerging artists, such as Salman Toor, Alex Gardner, Toyin Ojih Odutola, Tschabalala Self, and Amoako Boafo.
—Sarah Gottesman
B. 1991, Bothas Hill, KwaZulu Natal, South Africa. Lives and works in Durban, South Africa.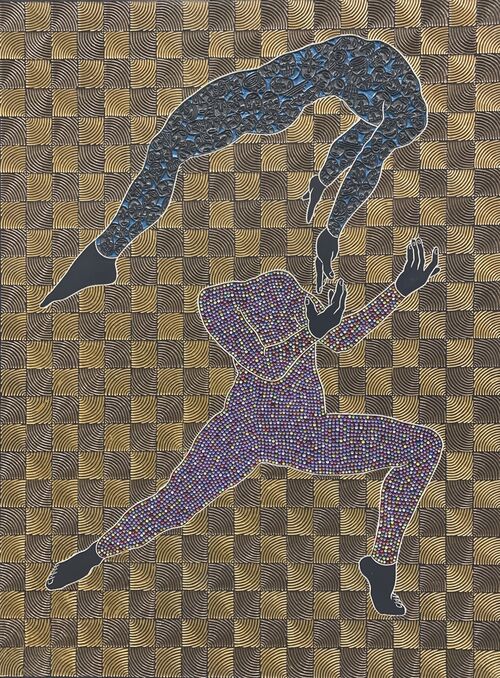 Saved Soul, 2020.
Sthenjwa Luthuli
Unit London
Eternal Happiness, 2020.
Sthenjwa Luthuli
PRIZM 2020
South African artist Sthenjwa Luthuli creates masterfully carved and painted wooden reliefs and woodcut prints that feature floating, headless figures. These ambiguous characters, staged in acrobatic contortions and poses, are meant to represent "like-minded unknowns." The "unknown" is a big part of Luthuli's practice: He comes up with ideas in what he calls an "unknown space," and develops works that ruminate on the complexities of the world.
Luthuli achieves a great level of detail through a long process in which he makes an initial sketch, carves that image into a wood block (this stage takes at least three months per work), and finally, paints intricate patterns onto the wood with equal care. In a recent Q&A with Unit London, Luthuli explained his interest in working with wood: "The wood comes from nature. In our culture as Africans we value everything that comes from nature."
Mirror Inspiration, 2020.
Sthenjwa Luthuli
WHATIFTHEWORLD
Inspired by artists including Wangechi Mutu and Yinka Shonibare CBE, Luthuli places his culture at the center of his work. The tension between traditional customs and urbanization is at the forefront of his current solo exhibition, "Inkaba Yami," at WHATIFTHEWORLD in Cape Town. In works like Identity Demands (2020), Luthuli alludes to this tension: A headless figure tumbles down a spiraling chute, contorted as if trying to keep from falling deeper into the throes of modern culture, and away from their roots and identity.
—Sarah Dotson
B. 1985, Grenoble, France. Lives and works in Paris.
Seven Steps, 2016.
Vasantha Yogananthan
The Photographers' Gallery | Print Sales
The French photographer Vasantha Yogananthan is on the verge of completing an ambitious seven-year, seven-book project called "A Myth of Two Souls." The final installment, titled "AMMA," is currently on view at The Photographer's Gallery in London through February 7, 2021, and will be published in March 2021. His stunning images, all shot in analog, are realized in distinctively ethereal, pastel hues, achieved through harnessing natural light. Perhaps most intriguing are his hand-painted photographs—black-and-white images to which he painstakingly adds color.
Divided into seven books, "A Myth of Two Souls" offers a contemporary vision of the ancient Indian Sanskrit epic, the Ramayana. The myth, which remains central to contemporary Indian culture, follows Rama, a prince who endures 14 years of exile and myriad obstacles before returning home to become king. As Yogananthan told It's Nice That, his intent was "to take a fiction and see how that fiction is still rolling through everyday life—and how that fiction remains very important for people today." He developed the work through 13 trips to India, Nepal, and Sri Lanka, capturing both candid shots of daily life and staged scenes of his own making.
Young Warriors Maheshwar, Madhya Pradesh, India, 2015.
Vasantha Yogananthan
Polka Galerie
Howling To The Moon Ramtek, Maharashtra, India, 2015.
Vasantha Yogananthan
Polka Galerie
"A Myth of Two Souls" has already been exhibited internationally and acquired by major institutions including the Victoria and Albert Museum in London, the FOAM museum in Amsterdam, and the Musee de l'Elysee in Lausanne, among others. And Yogananthan has been earning accolades as a promising, rising photographer for several years. In 2019, he was named laureate of Immersion for Fondation d'entreprise Hermès, through which he was awarded a residency in the United States and solo exhibitions at SFMOMA and the Fondation Henri Cartier-Bresson in Paris in 2021. He now shows with The Photographer's Gallery in London, Jhaveri Contemporary in Mumbai, and Polka Gallery in Paris.
—Casey Lesser